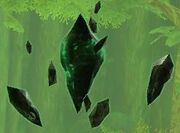 Aethertapping is a Daeva's ability to extract Aether from vortices.
Types of Aether
Edit
Various forms of Aether are used in crafting professions and used to Morph Substances. It comes in 10 kinds, each better than the last kind:
The chance of Rare harvests increases with the better nodes, as does the XP earned.
Extract Locations
Edit
This skill may only be used in a few select locations where vortices are present. Generally, higher skill level vortices are found higher up in the air.
Small Vortex (1p), (25p) and (50p)
Small Vortex (25p), (50p) and (75p)
Small number of Big Vortex (100p)
Big Vortex (100p), (125p), (150p) and (175p)
Small number of Small Vortex (75p)
Shining Vortex (200p), (225p), (250p) and (275p)
Small number of Big Vortex (175p)
Shining Vortex (200p), (225p), (250p) and (275p)
Small number of Big Vortex (175p)
Burning Vortex (300p), (325p), (350p) and (375p)
Small number of Shining Vortex (275p)
Small Vortex (1p), (25p) and (50p)
Small Vortex (25p), (50p) and (75p)
Small number of Big Vortex (100p)
Big Vortex (100p), (125p), (150p) and (175p)
Small number of Small Vortex (75p)
Shining Vortex (200p), (225p), (250p) and (275p)
Small number of Big Vortex (175p)
Small number of Burning Vortex (300p)
Shining Vortex (200p), (225p), (250p) and (275p)
Small number of Big Vortex (175p)
Burning Vortex (300p), (325p), (350p) and (375p)
Small number of Shining Vortex (275p)
Big Vortex (150p), (175p)
Shining Vortex (225p), (250p), (275p)
Burning Vortex (325p)