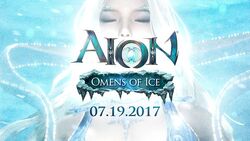 Omens of Ice, also known as Aion 5.6, is the most recent major expansion of Aion released on July 19th, 2017. It will be the first NA expansion to feature the Dragon Lord Ereshkigal as the main antagonist as previously alluded to in 5.0 and 5.3 as 5.5 did not get a individual release. In Korea, it was released as under the title Immortal: Challenge on February 22nd, 2017.
Ad blocker interference detected!
Wikia is a free-to-use site that makes money from advertising. We have a modified experience for viewers using ad blockers

Wikia is not accessible if you've made further modifications. Remove the custom ad blocker rule(s) and the page will load as expected.