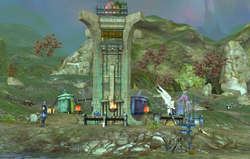 Anturoon Sentry Post is a fairly low level area where you can obtain many quests in Ishalgen. You are able to fly to this location from Aldelle Village.
Guards
Merchants
Services
Wildlife
Travel Connections
Edit
Flight teleporter
*Note: Flight transportation prices are an approximate 100% value and may fluctuate based on your servers' Influence Ratio.
Ad blocker interference detected!
Wikia is a free-to-use site that makes money from advertising. We have a modified experience for viewers using ad blockers

Wikia is not accessible if you've made further modifications. Remove the custom ad blocker rule(s) and the page will load as expected.