Asmodae
Talk

3
12,048pages on
this wiki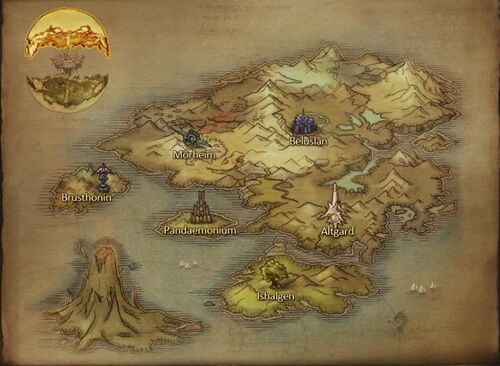 Asmodae is the home of the Asmodians. It is located in the upper hemi-shell of Atreia and is a harsh wilderness.
Asmodians
Edit
While Elysea receives radiant light from the nearby star and the Tower of Light, Asmodae isn't nearly so lucky. The land is dark and harsh, and over time the biology of the Asmodians has come to reflect this. With glowing red eyes, darkened wings, and faded dark skin, the Asmodians are a very symbol of the hardships they have had to endure. However, these trials have only made them stronger, and the Asmodians are just as eager for battle as they were when their ruling Shedim Lords demanded to continue the fight against the Balaur centuries ago.
The Asmodian are a race that are located in the darker hemisphere of Atreia. This race, without warmth and light from the sun, evolved into unique forms as they adapted to the harsh climate they now call home. They follow Azphel, the lord of darkness, as they fight against the Elyos for control over the world of Atreia. However, they not only have to beware of the Elyos, the Balaur also await to attack at any moment and destroy all who come near.
The Asmodians, having been thrown into the darker hemisphere, have become well adapted and evolved into their current form. Black wings that are as dark as night, talons and claws that are able to rip and tear their enemies, dark complexions, and a mane. The mane grows from between their shoulder below their neck and runs down their backs. When enraged and engaged in combat, their eyes become a dark crimson glow. The Asmodians resemble the stereotypical "demons".
Although the Asmodians and Elyos are on separate hemispheres they share the same origins. Before the Millennium Wars the two races coincided harmoniously with the world protecting The Tower of Eternity. During the war the two races were split as the Tower of Eternity was destroyed, both being plunged into separate hemispheres of Atria. Now with the two races split they are fighting for control, turning on each other and blaming the other race. With this new found blame each race has sworn revenge on the other and will fight to the death to gain control and take back their world. With the demise of the Tower, the two races are now sworn enemies....Will there ever be peace again?
Regions in Asmodae
Edit
Asmodae and references to Norse Mythology
Edit