Auto Group
Talk

0
12,048pages on
this wiki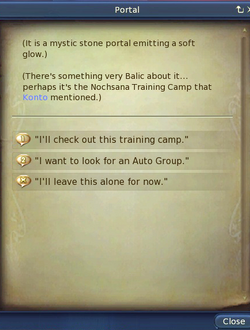 Auto Group is a feature that was added with the Patch Notes 2.6, which allows players to queue for Instances by speaking to an NPC or the object that grants access. Players can set up queues for up to three instances at the same time. The Auto Group system will look for other players until a full group is formed. Players utilizing the Auto Group system also receive Victory's Pledge, a buff which affects several attributes and helps the Groups progress through the Instanced Dungeon. Once the auto group message notifies you that there is a group formed, you have 2 minutes to enter.
Available Instances
Edit
The following instances have the auto group feature:
Options for Entry
Edit
There are two options for entry via auto group.
New Group Entry - This creates a new group from players in the queue, and when entered starts the instance at the beginning.
Quick Group Entry - This finds a spot in an existing group, and places the player in the instance which has already been started. There are time limits as to when an additional player can be brought into an instance.
Instance
Time Limit for Quick Group Entry
Fire Temple
5 Minutes
Nochsana Training Camp
10 Minutes
Upper Udas Temple
Lower Udas Temple
Empyrean Crucible
Steel Rake
20 Minutes
Dark Poeta
Victory's Pledge
Edit
Instance Name
Victory's Pledge Effect
Nochsana Training Camp
Attack +20, Magic Boost +105, HP +520, Healing Boost +30
Fire Temple
Attack +20, Magic Boost +115, HP +600, Healing Boost +30
Steel Rake
Attack +25, Magic Boost +125, HP +680, Healing Boost +50
Dark Poeta
Upper Udas Temple
Lower Udas Temple
Empyrean Crucible