Azphel
Talk

0
12,049pages on
this wiki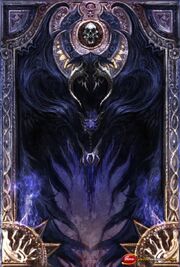 Azphel, known as the Lord of Shadow, is one of the Empyrean Lords, the Arch Shedim of the kingdom of Asmodae and serves as leader to the other four Shedim Lords.
Character
Edit
He is decisive and strong-willed, and symbolised by darkness, and the direction North. Strict with everybody, including himself; a perfectionist. Even Zikel, the Lord of Destruction, who is normally arrogant and prideful, bows before him. And Nezekan, who is said to be the strongest of the Elyos, fears him. His strength is said to be that of Nezekan and Zikel combined. He possess an energy or spirit like form just like the other Lords.
He believes that the utmost priority for the Lords is to eliminate the Balaur and protect the tower, and that Ariel has abandoned her responsibilities.
He believes that Ariel is too weak-willed to be a leader, and resents her attitude that she knew best how to protect the Tower of Eternity, in spite of his urging against trying to make peace. He believes that her weakness and ignorance caused the destruction of the Tower and the shattering of Atreia.
After the Cataclysm, he went to the northern hemisphere along with his followers, to defend that base of the Tower of Eternity. He became the leader of the Shedim Lords and ruler of all Asmodians.
Later he orders Lord Marchutan to attack Tiamaranta,while his real goal is to lure out Lephar and discover his plans.