Balaur
Talk

0
11,687pages on
this wiki
"
The Balaur are the greatest danger in the Abyss, and also its greatest mystery. Like the Elyos and the Asmodians, they do not make their home in the Abyss but in some other world. Yet no-one has ever seen a Gate to that world. Perhaps they are rare, or perhaps the Balaur can open Gates at will, and are preparing for some full-out offensive in the future.
"

– Elysean textbook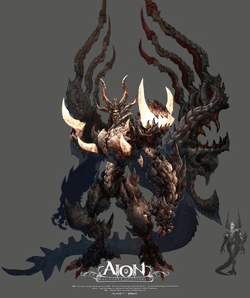 The Balaur is a race of intelligent beings that were sealed in another dimension by the Tower of Eternity. With the destruction of the tower during the Millennium War, they have become freed of their imprisonment, and seek vengeance upon the Daeva.
The Role of Balaur
Edit
The term 'Balaur' invokes images of terror and fear for the level of destruction that they caused, and continue to cause, in Atreia.
Their role is that of an unpredictable third power in the struggles between the Elyos and the Asmodian. Do not mistake them as a simple balancer of odds. As the Balaur consider all Daeva as enemies, their presence on the battlefield might not always be a blessing to the weaker side of the conflict.
A mighty and highly intelligent race created by Aion to rule the planet's population (including the human races), the Balaur quickly became fixated with power and servitude.
Their obsession eventually threatened the Tower of Eternity after violating the restrictions that Aion placed on them, forcing the god to create the Empyrean Lords to safeguard the planet and its people.
After a long and vicious war against the Empyrean Lords, the Balaur were involved in the destruction of the Tower of Eternity during an intended meeting for peace. In retaliation, the Empyrean Lords banished the Balaur, sealing them inside the Abyss, an unstable rift between the two shattered halves of Atreia.
Recently however, the Balaur have managed to escape from their prison, and threaten this fragile world with their fury once again...
In older interviews or discussions on the internet, the Balaur may be referred to as the "Yong" (which is their Korean name) or the Draconic race.
"Balaur" means "dragon" or, more loosely, "monster" in Romanian, being one of the oldest words in the language (pre-Roman).