Ad blocker interference detected!
Wikia is a free-to-use site that makes money from advertising. We have a modified experience for viewers using ad blockers

Wikia is not accessible if you've made further modifications. Remove the custom ad blocker rule(s) and the page will load as expected.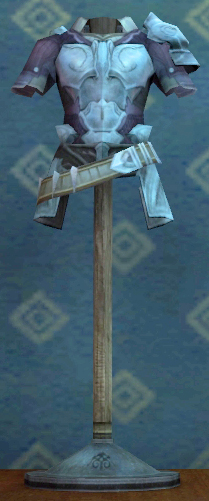 Chain armor is the second strongest armor after plate armor. It is strong, and can defend well against a lot of attacks, but it is light and gives the player who is wearing it the ability to navigate the battlefield with ease. Chain armor also gives a bonus to magic attacks. Chain armor can be worn by Clerics, Chanters, Aethertechs and although not preferred, Templars and Gladiators. Prior to ascending, chain armor can only be worn by Warriors.
| Icon | Type | Description |
| --- | --- | --- |
| --- | Hauberks | Designed to give as much protection to the torso as possible while allowing the wearer to moderately increase its magical abilities. |
| --- | Chausses | Designed to give as much protection to the legs as possible while allowing the wearer to moderately increase its magical abilities. |
| --- | Spaulders | Designed to give as much protection to the shoulder and neck as possible while allowing the wearer to moderately increase its magical abilities. |
| --- | Handguards | Designed to give as much protection to the hands as possible while allowing the wearer to moderately increase its magical abilities. |
| --- | Brogans | Designed to give as much protection to the feet as possible while allowing the wearer to moderately increase its magical abilities. |
Related Pages
Edit