Chanter
Talk

15
12,047pages on
this wiki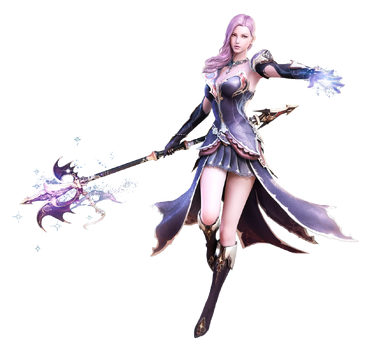 "Stay close, stay safe."
Class Summary
Edit
The Chanter is a unique class combination in that it is a support and DPS hybrid class. As such, Chanters can fill any gap in a party, whether it be support healing and buffing, or using their formidable DPS skills to help bring down a target.
For a better idea of what the Chanter can do, visit the List of Chanter skills.
Play Style
Edit
The Chanter is a unique class in that it is the combination of a heal and DPS role. Chanters have many supportive abilities which include some of the best buffs in the game as well as having access to the best heal over time spell, Recovery Spell. In addition to this, the Chanter has a special buff system known as the mantra system. Mantras can be cast instantly at any time and stay in effect until the chanter decides to either cancel it, replace it with another mantra, or the chanter is incapacitated.
Up to three normal mantras can be used simultaneously at any time and as each mantra has a unique effect, there are many different combinations that can be used to support a party. A caster heavy party make up would benefit greatly from magic boosting and MP regenerating mantras while a melee heavy one would benefit from the attack power and critical rate increasing mantras.
All mantras affect all group members in the vicinity of the Chanter. While all these supportive skills may seem to firmly place the Chanter in a supportive role, Chanters are also excellent DPS classes and have the skills and weapons to aid them in this focus as well. While chanters are proficient with staves and maces, most Chanters usually choose to wield a staff as this increases both their magical and physical damage over a mace and shield combination. It is also important to note that all critical strikes dealt with a staff have a chance to knock down a target. This aspect, combined with the fact that the staff has a naturally high critical hit rate, as well as the fastest attack speed of the two-handed weapons, turns the Chanter into a very effective lockdown class. However, should a Chanter need to tank or should he come under fire, a Chanter can wield a mace and shield combination to mitigate some damage while their powerful heal over time spells keep them alive.
In solo play, Chanters are easily the most effective solo class in Aion as they can effectively fill the roles of a DPS and healing class while also being able to tank to some degree. Chanters can easily dispatch mobs with their DPS skills and can have all of their heal over time skills active at the same time, which will effectively keep them at maxed health all the time. Also, through the use of mantras, a Chanter can quickly regenerate their mana spent and augment their already impressive DPS skills.
In group play, a Chanter serves to fill in any gaps left in a group's composition as well as boost the effectiveness of the group with their powerful mantras. If a bad pull is made, the Chanter can immediately switch to a support healing role to help a Cleric in healing their party. If the run is progressing smoothly, a Chanter can significantly increase the DPS of a group. As such, any party can easily be rounded out by having a Chanter in their ranks.
In solo PvP, Chanters are very well rounded and do fairly well against most classes. Using their passive healing over time skills, Chanters can ward off most melee classes. Against ranged classes, Chanters can close the distance gap fairly quickly by using one of the best ranged stuns in the game, Soul Strike. With its long 25m range and very short cooldown period (12 seconds), Soul Strike further augments the chanter's already impressive lock down capabilities. However, it should be noted that while a Chanter's healing ability is significant, it is not nearly as powerful as a Cleric's, which means that Chanters are susceptible to high damage bursts.
In group PvP, Chanters often find themselves switching from healing to DPS quickly and frequently. Should a team member come under focused fire, a Chanter can immediately cast powerful healing over time spells to aid a Cleric's heals. If a target is pulled in by a Templar, a Chanter can hold the target in place with their powerful knockdowns and stuns while the group dispatches them.
Ending Note
Edit
In summary, the Chanter is an effective solo class and a welcome addition to any party. One thing to note when playing a Chanter is that it is important to keep the mindset of both its healing and DPS roles. While a Chanter can be played as either a pure DPS class or a pure healer class, an effective Chanter will keep both in mind while switching to the one that is most beneficial to the party.
Offensive
The mana stones which should be socketed into the items should be Crit Strike. A crit of at least 800 is typically wanted to offset Strike Resist in PvP. Then start adding the following stats in the listed priority: Attack, Magic Resist and finally HP.
As far as weapon choice goes, Staff should be used the majority of the time. However, a backup Mace and Shield can be used for additional defense when needed.
Synopsis
Edit
Excellent solo play capability
Good lockdown capability
Good support ability (Mantras)
Can substitute or supplement all party roles