Crucible Coliseum
Talk

0
12,048pages on
this wiki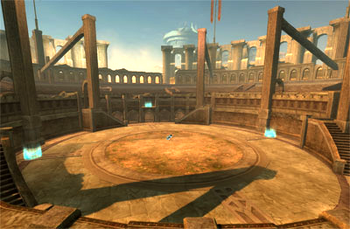 The 2.7 Patch update introduced the Crucible Coliseum, and with it, two new PvP arenas—the Arena of Discipline, and the Arena of Chaos. The Arena of Discipline is a one on one match, while the Arena of Chaos is one on ten in a free-for-all.
Entering the Crucible Coliseum
Edit
To enter, players must have a ticket, which can easily be acqhired from the NPC near the entrance. The daily quest will provide 2 tickets, which remain in inventory for 7 days.
The practice areas do not require a ticket, and can be entered again after a fifteen minute cool down. To enter speak to the instructors in Marchutan Priory or Kaisinel Academy.
The hours of operation for the Crucible Coliseum are tied to server time, and are as follows:
Weekdays (Monday to Friday) 12 PM – 2 PM and 6 PM to 2 AM the following day.
Weekends (Saturday and Sunday) 10 AM – 2 AM the following day.
Extra Points
Edit
During the Arena of Chaos, players have the opportunity to put their Essencetapping skills to good use. Extract from nodes in the Arena of Chaos to earn extra points, which translate to better rewards at the end of the round.
Arena of Discipline
Edit
The Arena of Discipline features 4 different battle locations that cycle in a random order. Each battle will take you to 3 of these locations, but you will never fight in the same area twice in one battle. Each area offers its own dangers and tactical advantages, so take some time in training to get acquainted with each location to gauge your strengths and weaknesses.
Once Round 3 begins, a visual marker will be placed over the player currently in the lead. Defeating this player means double the normal points earned. Remember, there are double points only during round 3!
Players will earn Abyss Points, Crucible Insignias, and Courage Insignias based on your performance during the battle. Players can expect to earn anywhere from 25-75 Courage Insignias during this competition.
Points in the Arena of Discipline
Edit
1. Defeating the other player earns 200 points. 2. Death will lose 100 points. 3. Killing the first place player in round 3, will earn double the points (400). 4. If a player earns 14,400 points, then the match is over. 5. If you forfeit a match, you will earn no rewards. Your portion of the reward will be given out to the remaining player.
Areas in the Arena of Discipline
Edit
The Plaza of Struggle
2 stories with 4 staircases. Controlling the center object is important for points and recovery
An interactive object worth 200 points appears in the center, also giving a temporary recovery effect
North side has a narrow walled corridor, south is wide open.
The second level of this arena is excellent for ranged classes to gain an edge over their opponent. Melee classes can use line of sight to make their ranged attackers come to them!
Red Sand Arena
The smallest arena, with a mob that attacks players. Bonus points are awarded for defeating the monsters.
Red Sand Brax (100 points) - uses Wide Area Stun
Red Sand Tog (100 points) - Uses Bleeding and Silence and Bind- can detect Advanced Stealth
The arena slopes to center
Red Sand Tog's Bark is a 16m AoE that silences and binds. Use the slopes to glide out of its radius.
Collapsed Wind Tower
Open flight battlezone.
Lava eruptions will frequently burst into the air, causing damage.
Blessed Artifact (100 points) will appear randomly at either the top or the bottom of the map.
At regular intervals, lava will erupt from the bottom of the map, resulting in Knock Down and a moderate amount of damage if in the blast area.
In addition to the damage taken, the lava burst will often times cause you to become stumbled. Some classes can even use this as a guaranteed way to trigger their powerful Remove Shock chain abilities.
Abyss Bridge
The battle takes place on a narrow and dangerous bridge over a chasm.
There are no safe landing areas,if you drop from the bridge, you will die.
A treasure box will appear in random places on the bridge that holds Coliseum consumables. Some of these will restore HP/MP, while others can be used for attack and defense.
There are broken sections of the bridge that are dangerous to fight around. *The bridge also has large stalagmites that can be used as cover from ranged attacks.
Turning off your Auto-Approach Target option for this stage will ensure full control over movement.