Eltnen formed the western side of the main continent of Elysea, and was a questing area for level 20-37 Elyos characters.
The region was sturdy in contrasts. Most of the land is parched desert but some areas of lush vegetation remain, such as the Manduri areas. Players were able to fly in Eltnen Fortress and Eracus Temple Cavern because of the presence of Aether there.
Eltnen was the first map where Elyos players would be exposed to the PvPvE aspect of the game, due to the presence of rifts. Asmodian players could use these to infiltrate the region, although Elyos players could return the favor by venturing into Morheim.
In the 6.0 update this region was removed from the game. Heiron has since taken over Eltnen's role.
Instances
Edit
Group Instances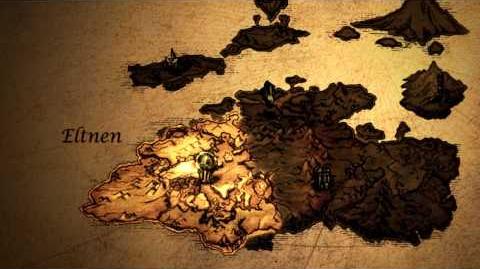 Eltnen means "the beautiful land". It was the most stunning region in all of Atreia until the Millennium War, but since then has struggled with a continuous and irresistible desertification that threatens the entire region. Lady Yustiel invented the Water Fountains called mystic springs in an effort to stop the spread of the desert. 
There is a book in the warehouse zone on the second floor, History of Eltnen Fortress, which gives further insight into the history of Eltnen and the fortress. The book also says that the primary objective for Daevas of the Eltnen Fortress is to stop the desertification of the region.
Sub-zones
Edit
Eltnen
areas
Eltnen Towns and Outposts
Main article: List:Eltnen quests
Resources
Edit
Travel Connections
Edit
Teleporter
Flight transporter
*Note: Teleport and Flight Transporter prices are an approximate 100% value and may fluctuate based on your servers' Influence Ratio.