Enchant
Talk

0
12,048pages on
this wiki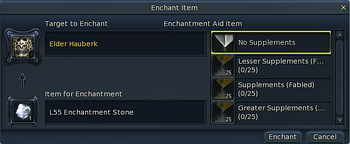 Enchanting improves specific attributes on weapons and armor. Enchantment stones are extracted from an item using <Extraction Tools>. The process destroys the item and produces one or more random level enchantment stones. The higher the level of the item extracted, the better chance there is for a higher level enchantment stone. Once extracted or purchased from the Broker, enchantment stones can be used to enchant items. Right click the stone, and then click the item to be enchanted. A screen will display showing the number of supplements required. Select the supplements to use (if any), then click Enchant. A confirmation screen will display. Click OK to confirm the enchantment. A progress bar shows first, and then either a success or a failure message with the appropriate character animation.
Succeeding in the enchantment process adds 1 level of enchantment to the item. All items can be enchanted up to +10. Fabled and Eternal grade items can be further enchanted to +15.
Failing the enchantment process removes 1 level of enchantment from the item. The lowest an item can drop due to a failed enchant is +0. If the item is between +11 and +14, a failure in enchanting will drop the item back down to +10. In order to get an item to +15, all 5 enchantments from +10 must succeed without a single failure.
Typically, enchantment stones should be a higher level than the item being enchanting and should be augmented based on the rarity. Junk items cannot be enchanted. Generally, add 1-2 levels for Common items, 5-8 for Superior, 10-15 for Heroic, 15-25 for Fabled and 20+ for Eternal grade items. For example, a level 40 Fabled item would have a higher chance to enchant using a
 <L60 Enchantment Stone> than it would with an

 <L40 Enchantment Stone>. There will never be a 100% chance to enchant an item regardless of the high level enchantment stones used unless enchanted with a 22px Felicitous Socketing (Fabled) or 22px Felicitous Socketing (Eternal). Some players suggest increasing the stone by one level each time you have success landing the enchantment. Other players suggest using all of the same level stones without increasing the level.
Enchanting Effects
Edit
Stat
Chest
Legs
Shoulder
Gloves
Shoes
Cloth Armor
Physical Defence
+3
+2
+1
+1
+1
HP
+14
+12
+10
+10
+10
Crit Strike Resist
+4
+3
+2
+2
+2
Leather Armor
Physical Defence
+4
+3
+2
+2
+2
HP
+12
+10
+8
+8
+8
Crit Strike Resist
+4
+3
+2
+2
+2
Chain Armor
Physical Defence
+5
+4
+3
+3
+3
HP
+10
+8
+6
+6
+6
Crit Strike Resist
+4
+3
+2
+2
+2
Plate Armor
Physical Defence
+6
+5
+4
+4
+4
HP
+8
+6
+4
+4
+4
Crit Strike Resist
+4
+3
+2
+2
+2
| | Stat | Bonus |
| --- | --- | --- |
| Shields | Damage Reduction | +2% |
Note: Shields also gain an extra 30 block each enchant from 11 to 15. At +15, you gain 150 block.
Enchanting and Supplements
Edit
During the enchanting process, there is a choice of using a supplement to improve the chance of a successful enchantment. The improvement has been calculated at roughly 11%.[1] For more information, see the page on supplements.
References
Edit