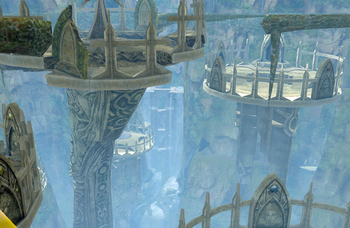 Eracus Temple Cavern can be found when heading north along the road west of the Golden Bough Garrison. There are no services here. The entrance quest,

<Killing for Castor> [p30] must be done to be able to enter the temple. This is an area where Daevas can fly.
After completing the relevant campaign quest, the player hears a message spoken in ancient Atreian, which reveals that the Eracus Temple is actually a 'playground' built for a child by the name of Kahrun.
Allies
Foes
Named
Objects
Ad blocker interference detected!
Wikia is a free-to-use site that makes money from advertising. We have a modified experience for viewers using ad blockers

Wikia is not accessible if you've made further modifications. Remove the custom ad blocker rule(s) and the page will load as expected.