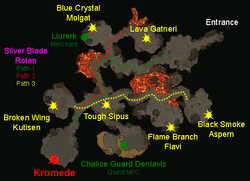 The Fire Temple (FT) is a group instance for players of level 27. Asmodians may enter through a door in the Sky Temple of Arkanis in Morheim, while Elyos may enter through a door in the Kyola Temple in Eltnen. It is home to <Kromede the Corrupt> and reaches deep underground.
It is the first instance that drops Fabled class weapons. It is an excellent place for players between level 30-40 to gain experience (mainly from related quests) and good drops.
Entry Quests
Edit
Asmodian
Elyos
*Note: After the 2.1 update, players can enter Fire Temple when they meet the entry level.
Walkthrough
Edit
This section is not complete. You can help by adding to it.
Unique Drops
Edit
Allies
Objects
Foes
Named
Related quests
Edit
Asmodian
Elyos
Ad blocker interference detected!
Wikia is a free-to-use site that makes money from advertising. We have a modified experience for viewers using ad blockers

Wikia is not accessible if you've made further modifications. Remove the custom ad blocker rule(s) and the page will load as expected.