Godstone
Talk

0
12,048pages on
this wiki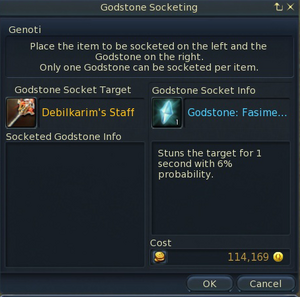 Godstones are socketable items, but can only be used to enhance weapons. Talk to <Genoti> in Pandaemonium or <Berus> in Sanctum. Once applied, the weapon will glow with its newly added power.
Only one godstone can be used per weapon. When you apply a stone to an item that already has a godstone socketed, there will be a warning stating all previous stones will be destroyed.
Place the weapon you wish to enhance into the Godstone Socket Target slot. Put the Godstone you wish to apply into the Godstone Socket Info slot. You will then see the description of the effect that will be placed on the weapon as well as the cost to apply the Godstone. If you are sure you wish to enhance the weapon with the chosen Godstone, click OK.