This article or section is a stub. You can help by expanding it.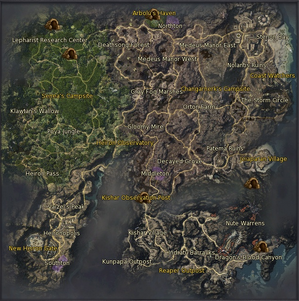 Heiron forms the southeastern side of the continent of Elysea, and is a questing area for level 32-45 Elyos characters.
It's a strange, beautiful and yet frightening land. From the dense jungles in the western area to the deserted wastes filled with undead in the east, it offers a challenging environment. It appears to have originally been a breadbasket for Elysea, as evidenced by the plantation ruins and few surviving agricultural areas. During a terrible Krall invasion at some time in the past about half of Heiron was burned and destroyed. The souls of the slain civilians cursed the land and still wander its reaches as undead in the present day. The Krall continue to occupy an area in the southeast area of Heiron. To further complicate things, the Balaur have invaded and found a way to stay in Heiron despite the lack of aether there.
Sub-zones
Edit
Notable Characters and NPCs
Edit
Resources
Edit
Travel Connections
Edit
This article or section is a stub. You can help by expanding it.
Ad blocker interference detected!
Wikia is a free-to-use site that makes money from advertising. We have a modified experience for viewers using ad blockers

Wikia is not accessible if you've made further modifications. Remove the custom ad blocker rule(s) and the page will load as expected.