Ishalgen
Talk

0
12,048pages on
this wiki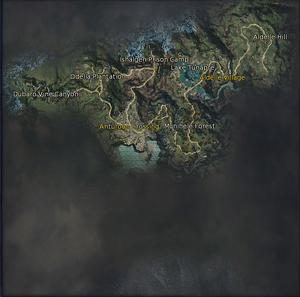 Ishalgen is the starting area for Asmodians level 1 through 10. This region is filled with lush wildlife, and plants, particularly in the Munihele Forest. The region is controlled by the Ulgorn Raiders under the command of <Ulgorn>.
Various tribes make their home here. Aldelle Hill, Aldelle Basin and Lake Tunapre are inhabited by the Spriggs, who compete with the Aldelle Villagers for grain. The Odella Plantation produces Ginseng, Odella and Odella Juice which are very valued commodities. However, the plantation is overrun by the Grey Mane and Dundun Tribes. Beyond the Dubaro Vine Canyon within Hatata's Hideout, the Mau are attempting to build an Abyss Gate to enable the Balaur to enter the region.
North of Anturoon Crossing is what is left of the Ishalgen Prison Camp and The Forsaken Hollow. This area has a crystal cell that imprisons <Munin> who is rumored to be the thirteenth Empyrean Lord.
There are no rifts in Ishalgen.
Subzones
Edit
Towns and Outposts
Explorable areas
Main article: List of Ishalgen quests
Main article: Category:Ishalgen NPCs
Resources
Edit
Travel Connections
Edit
Teleporter
Flight transporter
*Note: Teleport and Flight Transporter prices are an approximate 100% value and may fluctuate based on your servers' Influence Ratio.
Ishalgen
areas
Ishalgen Towns and Outposts
Ishalgen explorable areas