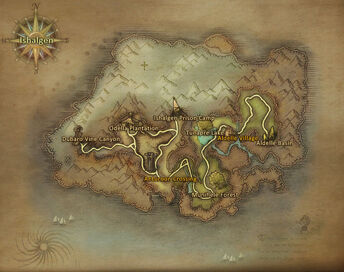 Ishalgen is the starting area for Asmodians level 1 through 10. This region is filled with lush wildlife, and plants, particularly in the Munihele Forest and Lake Tunapre . The region is controlled by the Ulgorn Raiders under the command of <Ulgorn>.
Various tribes make their home here. Aldelle Hill, Aldelle Basin and Lake Tunapre are inhabited by the Spriggs, who compete with the Aldelle Villagers for grain. The Odella Plantation produces Ginseng, Odella and Odella Juice which are very valued commodities. However, the plantation is overrun by the Grey Mane and Dundun Tribes. Beyond the Dubaro Vine Canyon within Hatata's Hideout, the Mau are attempting to build an Abyss Gate to enable the Balaur to enter the region.
North of Anturoon Crossing is what is left of the Ishalgen Prison Camp and The Forsaken Hollow. This area has a crystal cell that imprisons <Munin> who is rumored to be the thirteenth Empyrean Lord.
Ishalgen's main inhabitants are the Ulgorn Raiders. Most of the raiders are humans who have lost their homes to different circumstances and are in pursuit of a better life as thieves. One example is Kaindal, a farmer that fled Brusthonin during one of the many rehabilitation efforts. Dispite stereotypes, Ulgorn Raiders are friendly and deligent. There is a strong sense of family and community amongst the raiders. 
Currently the Ulgorn Raiders are making themselves home in Ishalgen, and are split between staying in Ishalgen or going to other lands for more opportunity. There are many expansion projects and reconstruction efforts going on in Ishalgen that could make the land into the next Poeta. Aldelle Plains are in active seige by the raiders, Aldelle Village is being reconstruction from abandonment, Munihele Forest is growing in cultivation, and the Mau are constantly being challenged and robbed.
Munin's Followers
Edit
Outside of the Raider community there seems to be exiled intellectuals that are loyal to the mysterious Daeva Munin. Munin's followers have two things in common, their distrust with the Ulgorn Raiders and their ex-association with Pandaemonium. Seen as heretical to many, Munin's followers guide Asmodae and Atreia's savior towards the future. 
Subzones
Edit
Towns and Outposts
Explorable areas
Main article: List of Ishalgen quests
Main article: Category:Ishalgen NPCs
Resources
Edit
Travel Connections
Edit
Teleporter
Flight transporter
*Note: Teleport and Flight Transporter prices are an approximate 100% value and may fluctuate based on your servers' Influence Ratio.
Ishalgen
areas
Ishalgen Towns and Outposts
Ishalgen explorable areas
Ad blocker interference detected!
Wikia is a free-to-use site that makes money from advertising. We have a modified experience for viewers using ad blockers

Wikia is not accessible if you've made further modifications. Remove the custom ad blocker rule(s) and the page will load as expected.