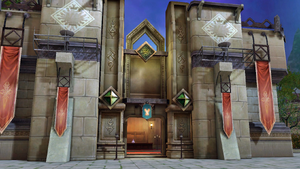 The Legion Administration Office can be found on the north side of Pandaemonium Plaza. To create, disband or upgrade a Legion, you can talk to <Sorante>. If you wish to modify your Legion emblem, <Garun> will be happy to assist you.
For Legions that are level 2 or higher, you can purchase Legion items from <Skan>.
Legion Administration Office NPCs
Edit
Ad blocker interference detected!
Wikia is a free-to-use site that makes money from advertising. We have a modified experience for viewers using ad blockers

Wikia is not accessible if you've made further modifications. Remove the custom ad blocker rule(s) and the page will load as expected.