Lumiel
Talk

0
12,048pages on
this wiki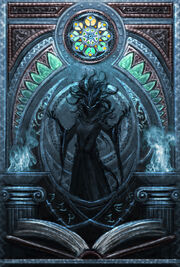 Lumiel, known as the Lady of Wisdom, is one of the Empyrean Lords. She is a follower of Azphel, and after the Cataclysm became a Shedim Lord.
Character
Edit
She is enigmatic, and symbolised by wisdom and the Sorcerer class. Despite her youthful and innocent appearance before the Cataclysm, wise Lumiel understood the nature and essence of Aether better than anybody. Her ability to channel it is still unparalleled, and as a result, she has the strongest magical power in all Atreia.
Before the Cataclysm, she was curious, innocent, and mischievous. In the centuries since, she has withdrawn and become something of a mysterious figure.
During the Abyss War, she has battled Kaisinel, the Lord of Illusion, many times, and usually got the better of him... but she is still wary of his power.