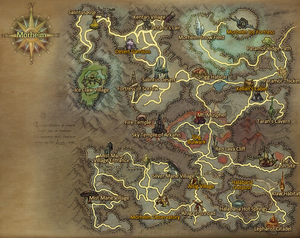 Morheim is a region located on the western side of the main continent in Asmodae and is recommended for players level 20 to 40. The region is guarded by the Archon under the command of <Brigade General AegirAegir>.
Morheim challenges travelers with its varied landscape and climate. From the bitter iciness near the fortress to the blistering heat of the only active volcanic area in Asmodae, Mt. Musphel, players must endure a wide range of temperatures. Lava from this volcano can be seen flowing throughout Red Lava Cliff and deep within Taran's Cavern.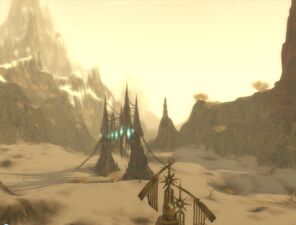 Patamor Thicket is home to the Elim and stretches from the Morheim Snow Field to the Hill of Belemu. This area is filled with lush plant life and very unusual tree-sized mushrooms. Players should bring plenty of water when traveling through the dry and barren Salintus Desert or plan to visit the flowing healing waters in the Halabana Hot Springs shortly after to refresh themselves.
Players are able to fly in Morheim Ice Fortress and the Sky Temple of Arkanis because of the abundance of Aether in those two areas. The major towns include Morheim Ice Fortress and Alsig Village, although there are other outposts as well. Players will find a variety of hostile wildlife, Lepharist Revolutionaries, and both the Ice Claw and Mist Mane Tribes. Adventurous and daring travelers levels 20-40 can opt to use the rifts to explore Eltnen. Be advised! Elyos can also use these rifts to invade Morheim as well!
Morheim's name translating to "death home", which certainly describes the land accurately. Almost everything about Morheim is challenging. If the extreme climates doesn't kill sombody, the hostile insurgents certainly will. From the white and flamboyant Elyos, the heretical and demented Lepharists, the vicious Mau tribes, and the corrupted Kromede, Morheim is a battleground for all to come. Connected to the Elyos region Eltnen, Morheim is invaded by white winged traitors who seek glory and vengeance for their deceased Storm Legion and executed Deltras. The Lepharists who also conspire between the rifts of Morheim and Eltnen use the land to abduct Daevas and forcefully execute heinous crimes. And the warring Mau tribes seek to not only destroy each other, but all of Morheim itself by opening a portal to summon the Balaur from the Abyss. If that were not enough, the Spriggans have made an enemy out of the Asmodian archons by destroying and stealing the Essences of Elim. Oh, and was it mentioned that Klaws and Petrahulks have invaded? Hide your kids, hide your wives, all hell is loose!
Sub-zones
Edit
Towns and Outposts
Explorable areas
Instances
Main article: List:Morheim quests
Main article: Category:Morheim NPCs
Resources
Edit
Travel Connections
Edit
Teleporter
Flight transporter
*Note: Teleport and Flight Transporter prices are an approximate 100% value and may fluctuate based on your servers' Influence Ratio.
Morheim
areas
Morheim Towns and Outposts
Ad blocker interference detected!
Wikia is a free-to-use site that makes money from advertising. We have a modified experience for viewers using ad blockers

Wikia is not accessible if you've made further modifications. Remove the custom ad blocker rule(s) and the page will load as expected.