Options
Talk

0
12,049pages on
this wiki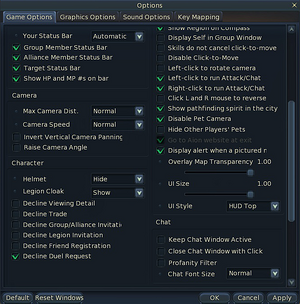 The Options Window allows customization for the User Interface. There are a large number of choices of what can be changed and adjusted to enhance the gaming experience.
Game Options
Edit
There are many different choices that players will see under this tab.
Name - controls how your name, NPC names, and monster names appear. Also affects titles and legion names.
Status Bar - this will change the way the bars look for yourself and groups.
Camera - affects how far you see, and camera angles.
Character - changes Helmet and Legion Cloak, as well as declining viewing, trade, invitations, friend requests and duel requests.
User Interface - changes a variety of interface choices.
Chat - along with the font size, the profanity filter can be turned on/off here.
Combat Info - damage reports, distance to target, target information, and auto-approach can all be changed.
Graphics Options
Edit
This tab will allow changes to screen settings - Windowed, Windowed Full Screen or Full Screen can be chosen. Color and resolution can be chosen. The Graphic Engine can be set to Default or High Quality, and the Quality can be manual set or Auto Detected. FPS (Frames per Second), Vertical Sych, Character LOD (Level of Detail) and the Weather effects can all be turned on/off.
Sound Options
Edit
Under the Sound tab, the BGM (Back Ground Music) level can be adjusted, or muted. The combat and ambient sounds can be adjusted, as well as the UI (User Interface), and NPC voices.
Key Mapping
Edit
The default settings for the keyboard can be changed with this tab. Settings for Move, Fly, Combat, Actions, Spirit, Group, Alliance - Group, Brand, Brand Target, Window, and Quickbar. To change a shortcut, select the key, and press Backspace. Then hit the desired key. Select <Apply> or <OK> to save the changes.