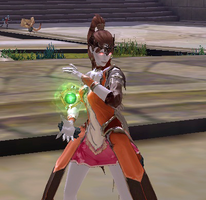 An orb is a short ranged weapon that can be composed of various elements. It contains the essence of the element it represents.
These weapons can only be used by Sorcerers or Spiritmasters.
Unlike spellbooks, they have a very short range, but can do more damage when used to attack an enemy. They generally have higher Magic Boost but lower Magical Accuracy than spellbooks.
Orb stats
Attack Speed
2.2s
Speed
Slow
Strikes
1 Strike Weapon
Wield Type
Two-Handed
Range
3m
Icon
Rarity
Description

Common

(

White

)
These are the most commonly dropped item and the rarity sold by vendors.

Common

items typically have 1 manastone slot.

Superior

(

Green

)
These are still frequently dropped by NPCs. They typically have 2 manastone slots and higher attributes and bonuses. Contribution vendors sell these items for AP, which grant players PvP attack bonuses.

Heroic

(

Blue

)
These items are hard to find and have even more increased attributes and 3 manastone slots. Contribution vendors sell these items for AP and

<

Silver Medals

>

. They have higher PvP attack bonuses.

Fabled

(

Gold

)
These items are very rare drops and typically have 4 manastone slots. They are quite expensive from Contribution vendors requiring lots of AP and

<

Gold Medals

>

. However, they have a very high PvP attack.

Eternal

(

Orange

)
These items are the rarest and can only drop from rare world bosses or instance bosses. They typically have 5 manastone slots.

Eternal

items can also be crafted by master crafters.
Enchanting
Edit
Each level of enchantment on an orb adds +4 Attack and +10 Magic Boost to a maximum total of +40 Attack at +10 (+60 at +15) and +100 Magic Boost (+150 at +15). For more information on enchanting, see the Enchant page.
Related Pages
Edit
Ad blocker interference detected!
Wikia is a free-to-use site that makes money from advertising. We have a modified experience for viewers using ad blockers

Wikia is not accessible if you've made further modifications. Remove the custom ad blocker rule(s) and the page will load as expected.