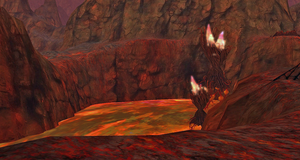 Red Lava Cliff is a cliff leading to the Sky Temple of Arkanis. As a river of lava flows just below the cliff, one false step could result in death. This area has bridges over lava rivers, and various paths through the mountainous terrain. There are no services here.
Allies
Foes
Named
Ad blocker interference detected!
Wikia is a free-to-use site that makes money from advertising. We have a modified experience for viewers using ad blockers

Wikia is not accessible if you've made further modifications. Remove the custom ad blocker rule(s) and the page will load as expected.