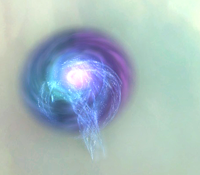 Rifts are a randomly occurring phenomena found throughout Atreia that allow travel between Elysea and Asmodae, specifically joining the areas of Eltnen to Morheim and Heiron to Beluslan. They appear as a colorful swirling vortex and are usually found on the sides of mountains or cliffs. While questing or farming, it is likely at some point you will stumble upon a rift. When you do, it is important to know where the rift goes and what level it is.
There are Spy Quests that utilize rifts to complete objectives in enemy territory. Rifts also create another outlet for PvP, aside from the Abyss, which also has the Balaur to contend with.
Other than questing or PvP, players go through rifts to collect materials, or to expose the map.
When entering a rift, bring friends, and always bring a few Kisks. Kisks are helpful to be able to resurrect within the same region, as the rifts will change periodically. Hide them well as the enemy can easily destroy them!
Using a Rift
Right-click on a rift to enter it. You will receive a popup window confirming that you want to go through the Rift. To return, just use the

<Return> skill, a teleport scroll, or find a different rift back. Rifts are one-way teleportations.
Rift Facts
Edit
Rifts open between areas of similar difficulty.
In any given area, or region, there are seven possible sites for rifts in each direction, with one faction incoming and the other outgoing.
Each of these rifts in a zone, 14 in all, appear randomly in one of a number of specified spawn points.
The number of Rifts that can appear at the same time is 2-6.
The rift has an entrance and exit, but it's a unidirectional path.
Each rift has a time limit for how long it will be open. All Rifts are open for approximately 26 minutes real time, which translates to 2 hours Atreia time (on the in-game clock.)
Rifts open every 2 hours real time.
Each rift has a level limit; if you are too high of a level you will not be able to enter. This is so that high level players cannot suddenly appear in the lower level areas.
Each rift has a usage limit, or a maximum amount of players that can enter before it despawns. This can be anywhere from 20 to 60 people, normally based on how hard the mobs are in the area.
When you enter/login to an area that has an open rift, you will get a yellow "global" message on the screen. If already present in that zone and a rift appears, you will receive this same system announcement when it happens.
If you look up in the sky, there is a huge swirl that shows a rift is in the area.
Rift Maps
Edit
The following will be a breakdown of the distribution of rifts, as well as other useful information. Each rift has been given a letter. The letter of an entrance rift corresponds to the letter of an exit rift in the connected zone. The entry point for each rift is stable for both factions, meaning the entry rifts in your race's area never change location. However, the exit points may vary slightly, changing location from time to time, and a player will exit a rift anywhere within the defined circle on the map. No doubt this is intended to prevent defending players from camping the spot where incoming opposition players arrive. We have done our best to mark the maps accurately.
Map Key
This icon shows rifts your
race is able to go through.
(Outgoing/Entrance)
This icon shows the
general area where you will
exit in the opposing zone.
(Incoming/Exit)
Elyos Rifts
Edit
| Rift Point | Level Limit | Player Number Limit | Time Limit |
| --- | --- | --- | --- |
| A | 28 | 12 | 2h (26m Real Time) |
| B | 32 | 20 | 2h (26m Real Time) |
| C | 36 | 35 | 2h (26m Real Time) |
| D | 37 | 35 | 2h (26m Real Time) |
| E | 40 | 45 | 2h (26m Real Time) |
| F | 40 | 50 | 2h (26m Real Time) |
| G | 45 | 50 | 2h (26m Real Time) |
| Rift Point | Level Limit | Player Number Limit | Time Limit |
| --- | --- | --- | --- |
| A | 35 | 24 | 2h (26m Real Time) |
| B | 42 | 36 | 2h (26m Real Time) |
| C | 46 | 48 | 2h (26m Real Time) |
| D | 40 | 48 | 2h (26m Real Time) |
| E | 50 | 60 | 2h (26m Real Time) |
| F | 50 | 72 | 2h (26m Real Time) |
| G | 50 | 72 | 2h (26m Real Time) |
Asmodian Rifts
Edit
| Rift Point | Level Limit | Player Number Limit | Time Limit |
| --- | --- | --- | --- |
| A | 28 | 12 | 2h (26m Real Time) |
| B | 32 | 20 | 2h (26m Real Time) |
| C | 36 | 35 | 2h (26m Real Time) |
| D | 37 | 35 | 2h (26m Real Time) |
| E | 40 | 45 | 2h (26m Real Time) |
| F | 40 | 50 | 2h (26m Real Time) |
| G | 45 | 50 | 2h (26m Real Time) |
| Rift Point | Level Limit | Player Number Limit | Time Limit |
| --- | --- | --- | --- |
| A | 35 | 24 | 2h (26m Real Time) |
| B | 42 | 36 | 2h (26m Real Time) |
| C | 46 | 48 | 2h (26m Real Time) |
| D | 40 | 48 | 2h (26m Real Time) |
| E | 50 | 60 | 2h (26m Real Time) |
| F | 50 | 72 | 2h (26m Real Time) |
| G | 50 | 72 | 2h (26m Real Time) |