Friend Management
Talk

0
12,048pages on
this wiki
The Friend Management is a place to register friends to make it easier to know if they are online, to search for someone, or to block a player to prevent further messages. By default the Friend Management shows only online friends.
The Friends List displays the Name, Level, Class, Region, Land, Status, and Note. To see more than the first few categories, press the Arrow key on the right. To add a note for everyone to see, write it in Notes section, and hit the disc to the right to save it.
Changing Your Status
Edit
The <Online> drop down box can change your status to Busy to let people know you are not available. Choosing Offline will make you invisible.
Checking the <Show Offline Friends> will show friends even if they are not currently in-game.

Friend Request
Edit
This section will track any requests from other players who want to add you to their list of friends. Select the request, and either <Approve>, <Decline> or <Block> the request.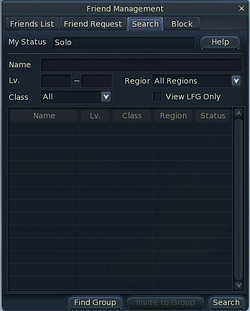 The <Search> tab will allow searches to find friends, or players to Group with. If you know the name, entering it will show if the person is online. If looking for a specific level, Region, or Class, use those filters to narrow down the list. The maximum number is 104 names.
This can be useful when looking for someone working on a similar quest, or when rifting to find others from the same faction in enemy territory!
If you do not want to see messages in any chat channel by a specific character, adding them to the Block list will prevent them from contacting you. To remember why, add an note in the memo section. Use the <Unblock> to remove a previous block and restore the ability to view messages from that player.