Tower of Eternity
Talk

0
12,048pages on
this wiki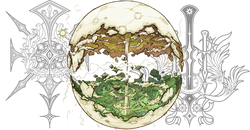 The Tower of Eternity is the center point of Atreia. It was said to be the physical form of Aion.
Prior to the Millennium War, all life giving energy from Aion shone forth from the Tower of Eternity in the center of the planet to the whole of Atreia.
The Daevas had been entrusted with the responsibility for protecting the tower. However, a catalysmic event during the war shattered the Tower of Eternity. Rifts in the fabric of space known collectively as "the Abyss" now occupy much of the center of Atreia.
Following the destruction of the tower, the Elyos and Asmodian races were separated, each occupying a different hemi-shell of Atreia. Sunlight reaches downward inside Atreia, illuminating the lower hemi-shell only, where the kingdom of Elysea is located. Little light penetrates to the upper hemi-shell of Asmodae.