Transparent Map
Talk

0
12,048pages on
this wiki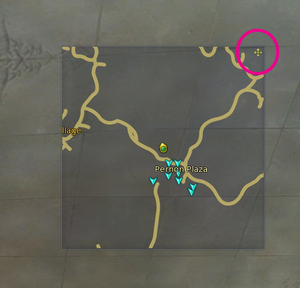 The Transparent Map (N) is a User Interface feature which provides a small or larger transparent map overlay on the screen. This allows easy navigation without obstructing the view around you. Pressing N once opens the smaller version, which is the immediate area around your character. Pressing N again will open a transparent map for the region. Similar to the World Map, quest markers will appear on the transparent map.
If quests have been added to the Quest Tracker on the side, the transparent map will show a gray circle over the mob spawn areas.
The degree of transparency can be changed using the <System Menu> (O), under <Options>. On the right side, about halfway down the window, the Overlay Map Transparency has a sliding bar under it that can change the amount of transparency from 10 to 100%.
To move the transparent map, press (N), and unlock the Quickbar. A move symbol will appear on the upper left or right corner of the transparent map. (The bright pink circle on the image shows the move symbol). Click and drag it to the new location on your Interface. Lock the Quickbar again.