Triniel
Talk

0
12,048pages on
this wiki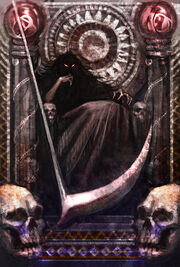 Triniel, known as the Lady of Death, is one of the Empyrean Lords. She is a follower of Azphel, and after the Cataclysm became a Shedim Lord.
Character
Edit
She is hidden in a veil of mystery, and not much is known about her. It is said that she is cold as ice. She is symbolised by death and the Assassin class. She is mysterious and private, but she is known for her ability to strike fatally at her enemy's weakness.
If Zikel is Azphel's right arm, she is his left. There are those who say that her dispassionate nature makes her stronger than the hot-headed Zikel.
There is a rumor that she was once a lover of Nezekan, but those who saw them battling it out in the Abyss don't give this gossip much credence.
Some believe that Lord Nezekan and Lady Triniel were once in love. It is said that Nezekan charged Brigade General Virkel of the Red Sky Legion to Triniel's service to protect her.