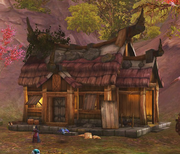 Verdandi is an old lady living in an isolated house at Munihele Forest in Ishalgen. She is widely known to be a witch.
Locations
Edit
Involved in quests
"Before you raiders arrived, I lived in peace. The only disturbance was the occasional traveler wanting his fortune told. I could wander Ishalgen as I pleased.
Now, because of you curs, I live this hermit life. If I leave this shack, my things disappear!
Just last week someone stole a silver necklace from my cupboard. I can't leave my own home without losing the rest of my meager possessions."

"How do you know it was us?"
"Tough break."
Ad blocker interference detected!
Wikia is a free-to-use site that makes money from advertising. We have a modified experience for viewers using ad blockers

Wikia is not accessible if you've made further modifications. Remove the custom ad blocker rule(s) and the page will load as expected.