This article or section is a stub. You can help by expanding it.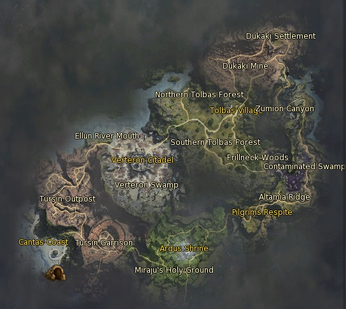 Verteron is a coastal region of Elysea surrounded by high mountain ranges, and is the main questing area for level 10-20 Elyos characters. Although a beautiful place, there are growing concerns over the recent activity from Lepharist Revolutionaries and raids from the Tursin Krall. It is in this area that the player will find the first (solo) instance at Lv16, Haramel.
There are no rifts in Verteron.
Verteron Citadel, a fortress at the center of the area, was constructed to defend the Abyss Gate. This is also the very same Abyss Gate from where Deltras and the Storm Legion marched on to the Abyss and eventually Asmodae.
Sub-zones
Edit
Towns and Outposts
Explorable areas
Main article: List:Verteron quests
Notable Characters and NPCs
Edit
Resources
Edit
Resources which can be harvested using essencetapping skill.
Travel Connections
Edit
Teleporter
Flight transporter
*Note: Teleport and Flight Transporter prices are an approximate 100% value and may fluctuate based on your servers' Influence Ratio.
Verteron
areas
Verteron Towns and Outposts
Ad blocker interference detected!
Wikia is a free-to-use site that makes money from advertising. We have a modified experience for viewers using ad blockers

Wikia is not accessible if you've made further modifications. Remove the custom ad blocker rule(s) and the page will load as expected.